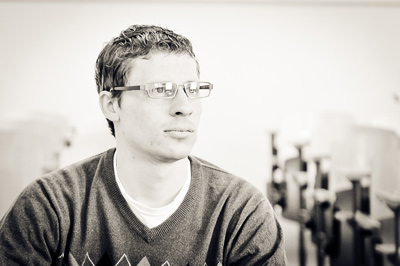 Travis Ulrich:
About Me
Professional Development
Though I enjoyed "tinkering" around with computers since my parents bought the family's first PC in 1988, I was first introduced to the world of development in 2006, when I inherited the responsibility of maintaining a legacy Filemaker database. Through much on-the-job learing and a lot of help from the Internet, I became comfortable working with the intricacies of relational databases. From there, I learned HTML and CSS in the process of designing and coding weekly email newsletters that the company would send out. With that understanding of HTML (and in spite of the fact that emails are coded like websites from the early '90s), I was given the responsibility of the main company ecommerce site. Working with an outside design agency, we redesigned the entire site to bring it up to date both in asthetics and functionality. Spending subtantial amounts of time with other people's code taught me both mistakes to avoid and best practices to follow.
After working with existing code for several years, and developing a few simple brochure sites, I felt confident enough to tackle some large scale projects: A business to business site for Vision Video, and a large consolidated content + ecommerce site for Christian History Institute (work in progress).
During this time I also developed a solution for Gingrich Animal Supply, which at the time was using a completely paper-based workflow. Starting from scratch, I developed a solution that minimized the time it took for them to enter orders, track inventory, manage customer accounts, record payments, and process needed reports.
Personal Life
When I am not sitting in front of a computer, I enjoy playing soccer and hockey, hiking with my family, being involved at Lakewood Baptist Church, or honing my photography skills with my two eighteen-month-old models. If travel were not a cost prohibitive hobby that would be on the list as well.